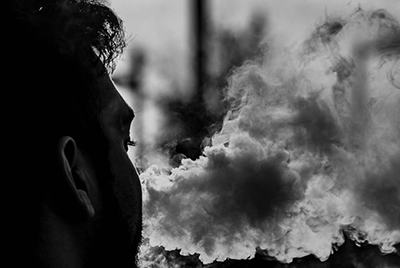 Over the years we have seen concerns among parents in the UK regarding their children in secondary schools illegally vaping at their place of study. While it's great that cigarette and drug use has dropped, vaping numbers are also on the rise.
Should it lie with the UK government to tackle this problem, as they're beginning to already with an e-cigarette consultation currently in place?
Or does it rest with schools and teachers implementing policies and bans?
We investigate how children can stay safe, backed up by the latest statistics, studies and trends for 2023.
What is the Legal Vaping Age in the UK?
If it wasn't clear already to underage vapers and illegally irresponsible retailers, the legal age for anyone who wishes to vape and purchase products is 18 years of age.
Any product associated with e-cigarettes bought below that age threshold is illegal, and the responsibility lies with the retailer to ask for proof of age.
What doesn't help the situation is a lack of enforcement on these illegal actions, as well as the marketing and display of products such as fruit-flavoured disposables.
In 2023, prominent group Action on Smoking and Health (ASH) reported that 20.5% of children had tried vaping, up from 15.8% in 2022.
Other reasons why this is happening include:
Black market vape sales
Newsagents 'corner' shops not verifying age
Lack of government action to crack down on sales
What these issues have caused is a problem for schools, with a survey from the Teacher's Union stating that government failure is leading to "over half (54%) of teachers reported that some pupils repeatedly leave lessons to vape, while a third (35%) report that some pupils are struggling to concentrate in lessons due to the effects of nicotine."
How Vaping in School Affects Teachers and the Classroom
It's a worrying sign for schools with the survey above reporting that 85% of teachers believe vaping is a problem on school premises.
What happens when bans and the correct policies are not in place impacts the health, safety and well-being of the students and teachers, in addition to behavioural problems, as well as potential damage to school property if vapes are left unattended.
When it impacts attendance and concentration levels, it's clear the government needs to take action and create a positive plan to reduce this number.
The latest findings from Zurich Municipal state that some schools are already beginning to take action, with 3% of parents suggesting their children have been suspended, and a further 2% expelled.
Not only does it affect the classroom environment but most importantly it can impact the children who are punished for this habit, missing out on school time while damaging their health.
Is Educating the Students on Vaping the Answer?
While the evidence of teenage vaping is clear, labelling the issue as an 'epidemic' or 'crisis' fails to cut to the heart of the issue and make meaningful, positive change.
Educating the children is just one part of the bigger process. For the UK, the truth is that in many situations there simply are not the checks and regulations in place to police less than reliable vendors.
Sadly, policies were not implemented at the government level and enforced enough to cut the issue at the source. This is currently being looked at as the government is now taking the right steps, while also considering what further rules to introduce to curb underage vaping.
It's important to also note that while it's a necessity to prevent children from getting access to e-cigarettes, a widespread ban on e-cigarettes and flavours could set the government back in its 2030 smoke-free UK society plan.
In addition, there are suggestions of plans for schools to educate children about the risks of vaping and how it is only advised as an alternative for adults who already smoked cigarettes.
How Do I Talk to Kids About Vaping?
While there are multiple initiatives underway to regulate the sale of vaping products to teenagers, the biggest difference can be made at home. However, warning children about the dangers they face is as important as it is potentially difficult.
Bearing this in mind, some simple ways to engage effectively include:
Staying Informed
Being able to deal with real rather than imagined issues is essential. Staying informed and understanding the risks can allow you to explain them without causing alarm or making them seem appealing. In an age of social media bubbles and fake news, it is important to check in with the channels children are interacting with and prevent inappropriate influences on their behaviour. If you are a regular vaper, ask your local vendor if they ID and inform them of the potential risks involved if they sell without checking the age of the buyer first.
In Short: Talk truthfully about the facts and validate businesses around you.
Be Responsible at Home
One of the major ways that children can easily access vaping products is by leaving them unsecured in their homes. If you own a device, always be sure to store it safely in a case and leave it out of sight. This can massively limit your child's access to vaping materials and e-liquids - helping to demystify the product and reducing the 'mystique' that advertising can cultivate around the product.
In Short: Take ownership of the role you play keeping vaping out of their life.
Reach Out
If you are concerned about your child's behaviour or potential use of vaping, sit down and talk to them. Remember to keep conversations open, honest and without judgement. Taking purely punitive measures can cause them to close down and add to the allure of trying a 'forbidden' thing - remember when you were a child and told not to do something? It can help to take the conversation as an opportunity to reach out and open a dialogue, letting them know you can be approached to talk about delicate subjects in future.
In Short: Talk to them in a respectful, open way that builds trust.
Be Honest About the Risks
While scaremongering should always be avoided, it is vital to make children aware of the genuine risks that black market or THC-infused vapes can produce. This was detailed by the Centre for Disease Control (CDC) in America which covered the multiple deaths and illnesses that have been directly linked to bootleg products and teaching children to avoid and identify tampered or counterfeit products.
In Short: Make them aware of the genuine risks and avoid 'scare tactics'.
Where Can I Learn More?
Simply put, vaping is a novel experience that plays an essential role in many individuals' lives. While there is an undeniable risk to those who are underage, contextualising it against the risk posed by underage drinking and smoking is not necessarily helpful. However, it is important not to diminish the issue - which is real for many parents, carers, and children throughout the country.
If you are struggling to engage with young individuals, websites such as Childline carry helpful advice about vaping, smoking, and more. Specific instructions are also available on a range of educational sites, allowing your engagement to remain helpful and effective.
Our regularly updated blog carries information about the industry too - allowing you to stay abreast of any developments. Our team at V2 Cigs UK also carry a range of safe products for adults keen on switching to vaping or switching to a reliable, safe device.
If you want to learn more about our stance on vaping regulation, feel free to get in touch and let our team know exactly what you need to make the right decision for you.