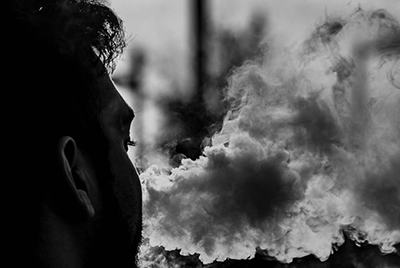 A concern for any parent, recent reports of vaping in schools have dominated the headlines. These stories have massively raised concerns about the access teenagers have to vaping products and the potential danger they pose to underage users.
But what is the reality behind teen vaping and what can you do to ensure that the children, relatives, or kids in your care remain safe and unaffected? We take an in-depth look.
What is the Perceived Problem?
First raised as a concern in 2018, schools throughout the UK began to highlight issues they were seeing first-hand about vaping. Initially labelled as a temporary craze, the issue soon began to take on a new degree of severity, with one in four children trying e cigarettes between the ages of 11-15 years old – a 22% rise over a two-year period.
The issue finally came to a head after a teen almost died from serious respiratory failure after vaping - prompting an investigation and a re-examination into the risks of teen vaping. The dilemma has also been mirrored in the US with 3 million students throughout the country using device in 2018 - leaving educators and parents in crisis mode. This led the US government to consider banning flavoured vapes last year, before choosing to overturn the decision almost instantly without consulting the CDC.
With 3.6 million vapers throughout the UK, demand increased, resulting in a proliferation of vaping products, creating new opportunities for underage vapers to access them. This flies in the face of the UK law that prevents individuals under 18 years of age from vaping, with many observers looking for a party to blame. As a backlash, there has been significant criticism levied at social media where bot accounts have been used to push vaping materials to inappropriate demographics; and have been directly linked to a significant rise in consumption in the States, with many well-placed accounts able to create hundreds, if not thousands, of posts per month.
With the internet proving to be the 'wild west' for vape marketing due to its decentralised nature, misinformation and uncontested influence are believed to be major factors in influencing teenagers.
What is the Reality?
While the evidence of teenage vaping is clear, labelling the issue as an 'epidemic' or 'crisis' fails to cut to the heart of the issue and make meaningful, positive change.
For the UK, the truth is that in many situations there simply are not the checks and regulations in place to police less than reliable vendors. For example, the BBC recently ran a story in which 40% of England's bricks and mortar sellers were caught illegally allowing underage children to buy e cigarettes between 2018/19. Those who took part in the study were 'rarely' asked for ID and able to access a range of products that could have proven harmful to young consumers.
Publicity around the issue has led countries throughout the world to take an increasingly aggressive stance on cigarettes and e-liquids, often choosing to ban them outright rather than conduct delicate and costly research to address the issue. This came to a head last year when India launched a 'preventative' ban, introducing a maximum 3-year jail term for those caught offending as a stopgap measure.
In the UK, the response has been equally swift but more measured, resulting in an almost immediate clampdown on vendors from law enforcement. Several shops have seen fines levied against them, with December seeing the first formal prosecution too. In addition, US companies have attempted to cut back on their advertising, which has been mirrored in the UK through the Advertising Standards Authority's clampdown on Instagram advertising.
However, many professionals believe that taking a more punitive approach to vaping can have a compound negative effect on health. Deborah Arnott acts as the Chief Executive of Action on Smoking and Health (ASH) and highlights that public risk about recent vaping deaths in the US "may be driving vapers back to smoking". Recent research completed by ASH covered the use of e-cigarettes among young people over a 5-year period. It found that three quarters of 11-18 year olds have never tried an e-cigarette; a strong correlation with previous smoking habits and that "while some young people, particularly those who have tried smoking, experiment with e-cigarettes, regular use remains low,'' adding that "continued surveillance is needed".
Recent research by the BMJ further supports this claim, contrasting the use of vaping in the UK between that of the US and Canada. The research team found that "between 2017 and 2018, among 16 to 19 year olds the prevalence of vaping increased in Canada and the US, as did smoking in Canada, with little change in England". The report continues to state that "vaping most likely represents a less harmful mode of nicotine delivery compared with inhalation of smoke from combustible cigarettes", highlighting potential positives for regular smokers looking for a way to cut back. However, reporting has still led to a knee-jerk reaction from many institutions, with market leaders such as Walmart preventing customers from being able to access safe and reliable products.
How Do I Talk to Kids About Vaping?
While there are multiple initiatives underway to regulate the sale of vaping product to teenagers, the biggest difference can be made at home. However, warning children about the dangers they face is as important as it is potentially difficult.
Bearing this in mind, some simple ways to engage effectively include:
Staying Informed
Being able to deal with real rather than imagined issues is essential. Staying informed and understanding the risks can allow you to explain them without causing alarm or making them seem appealing. In an age of social media bubbles and fake news, it is important to check in with the channels children are interacting with and preventing inappropriate influences on their behaviour. If you are a regular vaper, ask your local vendor if they ID and inform them of the potential risks involved if they sell without checking the age of the buyer first.
In Short: Talk truthfully about the facts and validate businesses around you.
Be Responsible at Home
One of the major ways that children can easily access vaping products is by leaving them unsecured in your home. If you own a device, always be sure to store it safely in a case and leave it out of sight. This can massively limit your child's access to vaping materials and e-liquids - helping to demystify the product and reducing the 'mystique' that advertising can cultivate around the product.
In Short: Take ownership of the role you play keeping vaping out of their life.
Reach Out
If you are concerned about your child's behaviour or potential use of vaping, sit down and talk to them. Remember to keep conversations open, honest and without judgement. Taking purely punitive measures can cause them to close down and add to the allure of trying a 'forbidden' thing - remember when you were a child and told not to do something? It can help to take the conversation as an opportunity to reach out and open a dialogue, letting them know you can be approached to talk about delicate subjects in future.
In Short: Talk to them in a respectful, open way that builds trust.
Be Honest About the Risks
While scaremongering should always be avoided, it is vital to make children aware of the genuine risks that black market or THC infused vapes can produce. This was detailed by the Centre for Disease Control (CDC) in America which covered the multiple deaths and illnesses that have been directly linked to bootleg products and teaching children to avoid and identify tampered or counterfeit products.
In Short: Make them aware of the genuine risks and avoid 'scare tactics'.
Where Can I Learn More?
Simply put, vaping is a novel experience that plays an essential role in many individual's lives. While there is an undeniable risk to those that are underage, contextualising it against the risk posed by underage drinking and smoking is not necessarily helpful. However, it is important not to diminish the issue - which is real for many parents, carers, and children throughout the country.
If you are struggling to engage with young individuals, websites such as Childline carry helpful advice about vaping, smoking, and more. Specific instructions are also available on a range of educational sites, allowing your engagement to remain helpful and effective.
Our regularly updated blog carries information about the industry too - allowing you to stay abreast of any developments. Our team at Vapour2 also carry a range of safe products for adults keen on switching to vaping or switching to a reliable, safe device.
If you want to learn more about our stance on vaping regulation, feel free to get in touch and let our team know exactly what you need to make the right decision for you.