Smok Propod Pod Kit Quick Summary
Advantages
Fixed mesh coil pods
Decent sized battery
Top fill
Compatible with other pods from Smok
Stylish two-tone design
Auto-draw or button activation
Can disable the fire button
Disadvantages
No ability to adjust the airflow or wattage
The battery is generous at 800mAh but could ideally be more
How is the Smok Propod Different from the Smok Novo Series?
It's often a challenge to find a unique pod kit in this industry tailored towards beginners or experienced vapers. One of the key selling points of the new Smok Propod is its stylish design, which is not reminiscent of previous compact kits designed by the iconic brand. The battery size of the Novo 2 and Novo 2X is the same as the Propod with 800mAh but nearly double the size of the original Smok Novo, which also supports the same pods as the Propod. It fires slightly higher mouth-to-lung power at 22W and features a top fill port, unlike the Novo and Novo 2 pods which are side fill.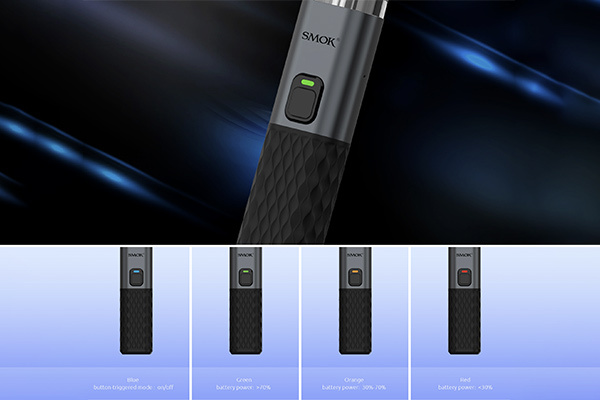 How Does the Smok Propod Perform?
It performs in a very similar way to the Smok Novo series because surprise surprise… it utilises a range of Novo pods. Perfect for simple vaping on the go, you can get a nice mouth-to-lung draw, whether through mouth activation or a fire button, with the Propod. The power is equally relatable to the Novo series so essentially it's just the device that looks different. Boasting a wider mouthpiece, this prevents the Propod from offering a tighter draw and at a push, provides a restrictive direct lung vape if needed.
There is also no adjustable airflow or adjustable wattage, but considering the low wattage, it's expected that there will not be as much cloud. It's your back-to-basics starter kit with a smart aesthetic look in a range of different colour schemes.
Which Pods Can You Use From Smok?
There are a few different resistances because you can alternate between the fixed coil pods from the Novo range to use on the Propod. The kit itself features 0.8 Ohm mesh coils, which are geared towards mouth-to-lung vaping. Other options from the Novo, Novo 2 and Novo 2X pod collections include:
0.9 Ohm mesh coil
1.0 Ohm mesh coil
1.4 Ohm quartz coil
1.4 Ohm DC coil
1.2 Ohm coil
1.5 Ohm coil
Functionality and How to Use the Device
This is vaping at the most basic of levels. As standard, five clicks of the fire button turn the device on or off. Alternatively, press the fire button three times to lock the fire button and use auto-draw only. Other than that, you're very limited in what you can do with no adjustable airflow, temperature control or adjustable wattage. With no settings to adjust or advanced features, this is a very simple device that's tailor-made for mouth-to-lung vaping and perfect for beginners.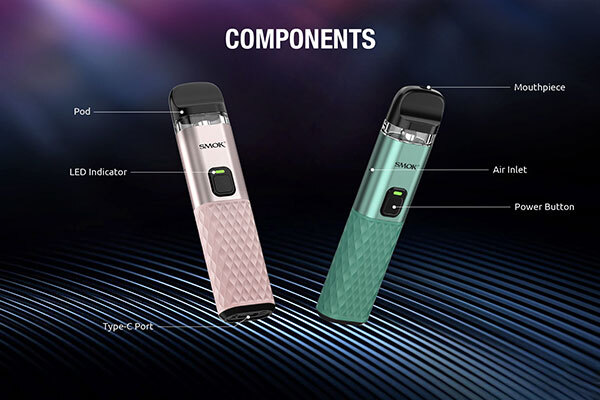 Appearance Breakdown
As we said above, this is an easy-to-hold compact kit that's not flashy with a big TFT screen display or a stylish LED light show. Instead, the design and form factor is the key selling point. The style is personified by the two-tone design, which features a silicone gel grip on the bottom to hold as you vape and a smooth metallic material on the top just below the pod. There is a small LED indicator positioned just above the fire button to indicate the battery status and whether you have locked the button for auto-draw-only use. There is a small air inlet on either side to maintain a decent amount of airflow and a type-c port at the bottom of the Propod to support quick charging.
Verdict
There are some nice additions to the latest Smok pod kit that we can get on board with. The Propod stands out because of its impact from a design perspective, with lots of cool colour themes to pick from. In the past, there have been a few Smok kits that look like they're made with cheap shiny materials and pods that leak easily. In comparison, the Propod is bold but equally understated. It's comfortable to grip, simple to vape and gives a generous amount of vapour as well as decent flavour. It's great that you can switch between different pods from the Novo series as well as the 0.8 Ohm mesh pods with the kit already.
However, because there is no airflow and the wattage only changes based on the pod you pick, there are a few limitations. It doesn't rock the boat in terms of innovation as we've seen these kinds of pod kits before. And yet, Smok has done a nice job introducing a new pod kit for their fans and beginners alike, which is minimalistic but effective.