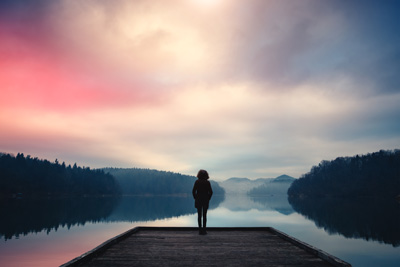 Sick of 'stuff'? In the age of consumerism and convenience, our lives can quickly become overrun with an assortment of unnecessary items that without our knowing can clog our thoughts and in turn our lives. Free your mind and your time and let's take a look at minimalism and how to vape with less in the year ahead.
Suffering from Stuff-Ocation?
There's no controlling Christmas. You may have wrapped all your presents with recyclable brown paper, adopted a penguin on behalf of your Uncle Bob and kept your carbon footprint at an all-time low by procuring locally made artisan produce from your high street - but that hasn't stopped your Great Aunt Gertrude from littering your living room with towers of unnecessary knickknacks wrapped in hordes of single-use-plastic, ultimately strewn across your homestead like one of the seven plagues.
The recycling bin is overflowing and an inevitable trip to the charity shop to deposit unwanted gifts awaits, but once the festive dust has settled and you've clawed back some composure, you may well be seeking some solitude in a stuff-less oasis of calm and tranquillity. Here to fan the fire of 'stuff', enter the fray, the way of minimalism.
What is Minimalism?
Minimalism is simply living with fewer material possessions in your life. Whether you have a closet with more clothes than you need or an excessive home-entertainment package, the chances are without knowing it, those items are stealing your attention and your brain power. The simple act of choosing what to wear or what to watch can be a time-consuming exercise if you have more choice than you actually need - even knowing the difference between what you want and what you need can be a tiring thought so often overlooked.
Living with less can create mental freedom and provide you with more value for the things you do have in your life. Let the days of disposability fade like a distant memory and invest in items that have a purpose and will withstand the test of time.
Vaping: Less is More
You may be thinking to yourself, 'all this minimalism sounds great, but what it is got to do with vaping?' E cigarettes and vaporizers require a number of elements to come together to operate and give you the vaping experience you desire. From batteries to e liquids, it's easy to get caught up in buying what you need when you need it rather than pre-planning your vaping inventory, which could save you both money and time.
Inexpensive goods may have an appealing price point, but the probability is that they have been poorly produced and will only last so long. By investing in a more expensive, but more robust and reliable device, you won't have to replace accessories as often as one might with cheaper items, giving you the longevity that you expect and deserve.
Buying single-use cartridges can quickly amount to some serious waste. Save money and do your part for the environment by using refillable cartridges that require you to manually fill your e liquid which is more affordable and altogether more environmentally friendly way to vape. In addition, bulk buying your favourite e liquids can help save on the accumulated packaging that would typically take place should you buy bottles individually.