How to Reset your V2 PRO Series 3 or 7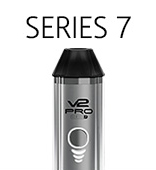 If you ever find that you V2 PRO is not responding properly when you press the button for any number of its commands:
First ensure the Pro is fully charged by leaving it on charge overnight - detach the cartridge.
1. Connect to mains via the charging cable. Cycle the device on and off by pressing the button 3 times in quick repetition. Do this twice so that it cycles on and off twice leaving the device in the On mode. Replace the cartridge and check it works.
2. If that does not work – whilst the Pro is in standby mode ( i.e. the device is on, but the button is not depressed yet) briefly hold the button down in the "vape" position whilst at the same time dropping in the e-liquid cart so the cart connects to the power whilst it is on.
Note when vaping loose leaf or herbs no combustion takes place and vapour is virtually colourless so you should not experience plumes of vapour – this would just be a waste of active ingredients. (when "smoked" the old fashion way combustion takes place causing smoke – this is not what happens during vaporization). The active ingredients are not clearly visible when vaped but you will taste and certainly feel the effect.
Here are some other useful Tips
Make sure you grind loose leaf/herb down and do not pack too tight or too full
Start at the first temperature setting for the first cycle and vape till the device stops – for the next cycle, mix the semi-vaporized cart content and set at the next temp level and vape again. Repeat for the 3 rd temp setting. Depending on the product that you are vaping and its characteristics eg moisture content etc you should find which temp suits you best.
The amount of vapour will vary between vape mediums ie dry herbs, loose leaf etc. because of their characteristics and the degree of moisture they contain. The V2 Pro range is recognised by top review sites including Gizmodo and t3.com as the best vaporizer brand and with its 3-in-1 capability trumps the competition.
And if you need any help please call our customer services team on 01733 555 555 or email us at help@1111.uk.com