We're always delighted to connect with our customers on social media and love hearing your feedback about our products and website, so when one of you requested this blog post we got cracking immediately!
We were asked to share a guide to our full range of e-liquids and cartridges, and what better time to share this now we've got two brand new e-liquid flavours to introduce you to?
Let's jump right in with our e-liquid flavour and strength range: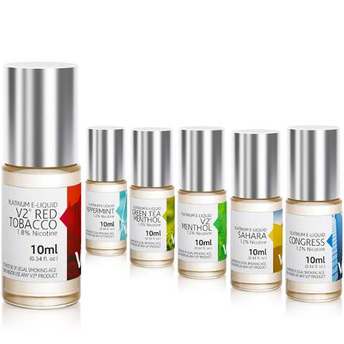 VSAVI Platinum E-Liquid Flavours and Strengths
Our current flavour line up of Platinum E-Liquids includes:
VSAVI Red: A strong tobacco flavour hit
Congress: A smooth Virginia-style tobacco flavour
Sahara: Think French or Turkish tobacco
Menthol: Very cool to taste
Peppermint: An icy blast of flavour
Green Tea Menthol: Refreshingly subtle
Coffee: Mellow yet invigorating
Vanilla: Sweetly satisfying
Cola: The flavour of the real thing
Grape: A taste of summer
Cherry: Very fruity
Chocolate: A treat for the chocoholics
Our
two newest flavours,
which are both a 70/30 PG/VG blend, are:
Bold Leaf Menthol: Crisp and refreshing
Gold: A semi-sweet tobacco flavour
When it comes to e-liquid strengths, all of our cartridges and e-liquids are available in the following nicotine strengths:
0% (nicotine-free)
0.6% (similar strength to: "mild" cigarettes)
1.2% (similar strength to: "medium" cigarettes)
1.8% (similar strength to rolling tobacco and stronger/high nicotine cigarettes )
VSAVI Platinum E-Liquids
Our e-liquid flavours and strengths described above are available as bottles of e-liquid, which are available in four different products.
Firstly, the standard 10ml bottle of liquid. Now the introduction of the TPD is here, this is the largest individual bottle size we are able to sell for any e-liquid containing nicotine. These 10ml bottles are priced at £6.99. Shop now.
For those who are loyal to their favourite flavour of e-liquid and want to save by buying a multipack, we have two options for you.
One: Our 3x10ml bundles of e-liquids, in your choice of flavour and nicotine strength. These are priced at £19.99.

Two: Our 5x10ml bundles of e-liquids. Again, in your choice of flavour and nicotine strength. These are the most cost-effective solution for those on a budget, priced at £29.99. Shop now.
If you're still testing out flavours and haven't yet decided on a favourite then one of our sampler packs might be just what you're after. These six packs of 10ml e-liquids come in two flavours: Tobacco (V2 Red Tobacco, Peppermint, Green Tea Menthol, V2 Menthol, Sahara and Congress) and Sweet & Fruity (Coffee, Vanilla, Chocolate, Grape, Cherry and Cola). These are priced at £31.99. Shop now.
Finally, if 0% nicotine is your preferred strength and you like high VG e-liquid try VSAVI 100% VG e-liquid.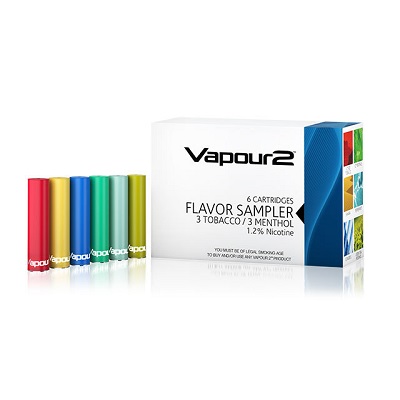 Prefilled Flavour Cartridges
When it comes to convenience, you can't beat prefilled flavour cartridges. Simply attach to your compatible e-cigarette battery and away you go.
We have two main ranges of prefilled flavour cartridges to choose from, depending on your preferred system: Classic Cartridges and EX Cartridges.
Our Classic range is made up of four different pack sizes, so there's an option to suit all budgets and vaping habits. Lighter vapers may want to opt for our Classic Cartridges x 5 option, which is priced at £12.99, whereas our Classic Cartridges x 20 and Classic Cartridges x 40 options are more suited to heavier vapers. These are priced at £42 and £83, respectively.
For the vape aficionado who loves a bargain, our bumper Classic Cartridges x 80 pack is the largest we do and offers a 25% saving over buying individual packs of five cartridges. These are priced at £159.

As with our bottles of e-liquids, we also offer a Classic Cartridge Sample Pack of six different flavours, which is priced at £13.75.

Moving onto our range of EX Cartridges, these represent the next generation of prefilled cartridges and we hope you love them as much as we do! Each EX cartridge can produce up to 400 puffs and the design of the cartridge ensures you'll receive consistent flavour from the first puff to the last. There's also a handy window on the side of the cartridge so you can keep an eye on how much e-liquid is left in the tank.
Our EX Cartridges are available in packs of five, twenty, or forty, so you can make your choice based on how often you vape and how many different flavours you would like to try. We also offer an EX Cartridge Sampler Pack option, which contains six cartridges of various flavours; this is priced at £16.60.
Refillable (Blank) Cartridges
To finish off, let's take a tour of our refillable cartridge options. We apologise as we know "blank" is an odd name for a refillable cartridge but that's the name VMR products chose when they launched the V2 range in the USA.
Our most popular refillable cartridges have to be our best-selling EX Blanks. This three pack is designed to be used with our Platinum E-liquids and each tank can be refilled up to 15 times before needing to be replaced. These are priced at £14.99.
*
We hope you enjoyed this whistle stop tour of our full range of e-liquid flavours, strengths and cartridges. If you have any other queries about this range, or any of our other products, please don't hesitate to contact our team.