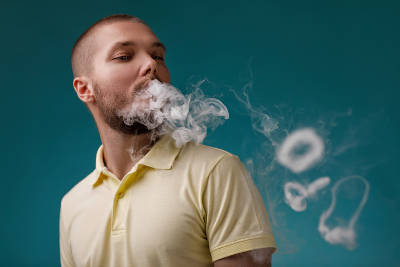 Vaping in Scottish Prisons
As the Scottish prison system sets its sights on going smoke-free this autumn, prisoners with a penchant for smoking tobacco will be provided with free e-cigarette kits in an effort to provide a healthier, smoke-free environment for inmates.
Last year,the Scottish Prison Service (SPS) announced plans for all Scottish prisons to become smoke-free, following concerns the negative effect, passive smoke has on our health. While the health risks posed by second-hand smoke have been known for some time, when you consider that 80% of Scottish prisoners smoke compared to the national average of 20%, we get the sense that there's an awful lot of surplus smoke left hanging around that may be causing some significant damage.
In 2013, the Scottish Government published their tobacco control strategy, ' Creating a Tobacco-free Generation', which recognised creating a smoke-free environment within the prison system would be a key step to take. While the widespread ban of smoking in enclosed public spaces and workplaces was enforced in 2006, Scottish prisoners until now, have been allowed to smoke in their cells. As of November 30th, such liberties for prisoners will be removed, and thus a smoke-free environment will be created.
Second hand smoke in prisons.
Cabinet Secretary for Justice, Michael Matheson, commented;
"Second-hand smoke poses an unacceptably high risk to the health of prisoners, staff, and visitors.
There are very high rates of smoking among those in custody. The staff working in Scotland's prisons should be afforded the same protection as people working in other professions."
Naturally, nicotine is pretty tricky to abstain from once you are addicted and the unrest and anxiety experienced by any individual, incarcerated or not, can be overwhelmingly difficult to overcome. It seems only sensible, therefore, that the savvy Scottish Prison Service, will provide those in custody with various options and information in order to help them curb their habitual cravings for cigarettes.
Cabinet Secretary for Justice, Michael Matheson, said.
"I fully understand how difficult it will be for many in our care to give up smoking - that is why we are committed to working alongside our partners in the NHS to provide every support possible to assist them."
At a cost of £200,000, Scottish prisoners will soon be given rechargeable e-cigarette kits, consisting of one vaping device as well as three e-liquid cartridges. Free for prisoners until January 2019, inmates will then be sold devices at a reduced cost and then in June asked to pay the full cost; a cost which in comparison to tobacco may potentially see inmates additionally save a penny or two in the process.
The health implications for inmates could be set to prosper too. While the e-liquid used for vaping does contain a few of the chemicals found in cigarettes, they do not contain tar or carbon monoxide - two of the most lethal toxins found in cigarettes. In a landmark review, Public Health England declared that e-cigarettes to be around 95% less harmful than smoking tobacco.
Whilst the immediate impact for Scottish prisoners may be one met with fraught, here at V2 Cigs, we think the move to become smoke-free can only be a positive one for the health of prisoners, and the staff working in prisons who will be less exposed to second hand smoke.