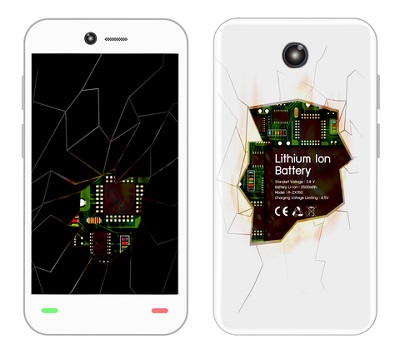 This might be a taboo subject on some websites, but it's not something that we can just ignore. You read the news and so do we. Sometimes, and we do mean sometimes, electronic cigarettes or other vapour products are in the spotlight for a bad reason. Most of the time they're in the news because of some new law, or some new piece of research, but sometimes it's not good news for vapour.
We're talking about vapour products exploding, and this has happened all around the world. No country seems to be immune from this rash of malfunctioning vapour products, and the end results are never pretty. Whether it be an overheating battery in the pocket of a consumer, or the rare occasion when an electronic cigarette or vaping battery actually explodes, it gets our attention.
More recently there was an electronic cigarette that was caught on video exploding in a man's pocket. This particular incident happened in Toulouse, France outside a venue. In the video, you can see the young man vaping on his device, then putting it into his pocket for safekeeping. The video then cuts to sometime later, when all of a sudden sparks literally fly – out of the man's own pocket. The unfortunate individual suffered burns, and more than that it probably scared him near to death!
These are the types of images and videos that end up going viral on the internet, and they certainly don't paint vaping in a positive light. Yet, the question that comes to our mind is what is going on with these products and why are they exploding? Certainly, we never hear about the name brand products creating such a scene, so what are these vaping products and where do they come from? Upon further inspection of the news, it always almost seems to come down to a case of cheap hardware, and it's something every consumer should take note of.
Cheap Products Should Concern You
We don't like to talk about the competition here. It's just not appropriate. Thankfully, we don't have to here. When we say you should stay away from cheap vaping products, we aren't talking about a specific company. We don't really mean the brands that you would know by name either. We're talking about the products that some people purchase from questionable sources. They don't have known names behind them and, while the items may be very cheap, they don't really know where they are coming from.
The fact is, not everyone is out there testing their batteries for quality control. All of the V2 Cigs batteries and everything in our vape kits lineup are, of course, tested to the highest level possible. We won't leave anything to chance and the safety of our customers is paramount. Unfortunately, not all consumers weigh these factors when making their decision of where to purchase from.
What they end up with, even if it is still rare, is a device that can malfunction on them. In the worst cases, a malfunction can mean something like an explosion. This is definitely something you don't want to experience. It's scary, and it can be dangerous. Whether you are purchasing a premium product that V2 Cigs produces or something else, the most important thing is to know where your products are coming from.
The sad thing is that the people who purchase these faulty items may never vape again. It may scare them off, and they may just go back to their old habits. That's a shame, because vaping can do so much for people. Incidents like the one that happened in France taint the name of vaping, and it drives people away. We hope that consumers can see through all the unsupervised and cheaply made products, and find the real value in premium vaping products. It's certainly something we would like to see happen as widely as possible.