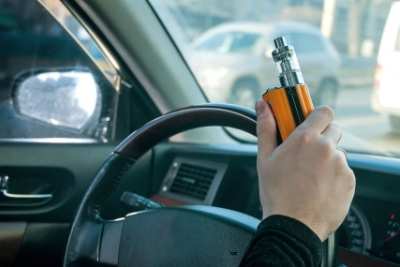 From staying up till sunrise on a Wednesday to eating your annual allocation of ice cream in a week – the summer holidays have the potential to present copious amounts of good times. But before you get carried away with the Pina Coladas, some rules are worth sticking to. Let's take a look at where and where not to vape this summer.
Sensible Vaping: 5 Places That You Should Avoid Vaping In
1. Vaping on Public Transport such as buses, trains and planes is strictly prohibited. Even if you think you can get away with a discreet and cheeky vape – think again. If you're caught vaping somewhere you're not supposed to, expect to pay a fine for your troubles. Similarly, bus depots, train station platforms and airports will all operate a vaping policy that will likely prevent you from vaping on their premises.
2. Restaurants and bars will operate their own vaping policies, though the likelihood is that vaping inside the restaurant won't be something that you can do. Similarly to smoking, there may be a designated space to vape outside, though this will probably be in the same vicinity as the smokers and tobacco smoke that you're trying to avoid.
3. Public Spaces such as museums, shopping malls will operate their own policies when it comes to vaping, but like the aforementioned bars and restaurants, the likelihood of these places providing a designated vaping area free from tobacco smoke is a reality yet to be realized.
4. Whilst it is not illegal to vape in the Car with Kids, the advice would be to refrain from doing so. Second-hand vapour from a vaporizer may not be as harmful as the second-hand smoke, but nevertheless, kids can be impressionable creatures that may be tempted to copy Mum and Dad in the way that they so often do.
5. In the Pool / Sea, It might seem silly to suggest, but the summertime temptation to lazily spend the afternoon on an inflatable flamingo in the middle of the pool or in the sea is one that is best to avoid. The 'e' in the e-cigarette, of course, stands for electronic, which means that you should steer clear of any water based sports activities if you're thinking of vaping.
Where in the World Can You Vape?
If you're travelling through central Europe this summer or are enjoying a summer staycation here in the UK, then the good news is that you'll be able to vape e-cigarettes as you would normally in your day-to-day life. Stick to the laws regarding public spaces and if you're left feeling unsure about whether you can or can't – simply ask someone who you believe to be in a position of authority. If you run out of e-juice while you're away, fear not for you'll find it e-liquids readily available for purchase at both tobacconists and specialized stores alike. Venturing out of Europe? Places like the U.S.A, New Zealand both have an ever-growing population of vapers which means you will be in good company should you wish to vape. Similarly to the U.K and E.U. vaping in public spaces will often be a no-no.
Where in the World Shouldn't You Vape
Here in the UK, for the majority of vapers, vaping is seen as a way to help smokers become smoke-free and is regarded as far less-harmful alternative to smoking and burning tobacco. Unfortunately the same cannot be said elsewhere in the world. From a lack of product regulation and governance to question marks over the health implications of vaping - if you've booked your summer holiday to any of the following countries, you should be wary of where and when you vape. With possible fines and jail term given to those caught, these are rules well worth obeying.
Vaping is banned or has restrictions in Argentina, Australia, Brazil, Brunei, Canada, Cambodia, Egypt, Hong Kong, India, Indonesia, Jordan, Japan, Lebanon, Malaysia, Mexico, Norway, Panama, Philippines, Qatar, Singapore, Taiwan, Thailand, Uruguay, Venezuala, Vietnam.