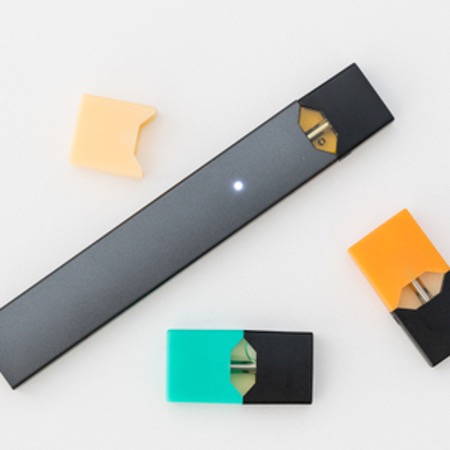 After arriving in the UK market in 2018, JUUL developed a decent proportion of the e-cigarette industry with their pre-filled pod devices, simple design and practical nature. Despite its global name and stature, in the USA where they've produced the company faced a backlash from the government, media and the public, with JUUL told in 2022 to remove its major products from the market. You can buy them in the UK but their reputation is tarnished as they have been criticised for their advertising to youths in the USA. This contrast divides opinion and has e-cigarette users in the UK looking for substitute options that match their needs.

With JUUL, on the plus side, they're compact, light and not bulky. But you're limited as a vaper in terms of flavours and value, as well as a lacklustre battery life. Because the pods are not refillable and only have so many puffs at 1.2ml e-liquid, it's not as good for the wallet. The only option you have is closed pre-filled pods and limited choices to suit your taste buds. Predominantly, JUUL focuses on tobacco flavours, which are good for some smokers but prevent vapers from exploring other options. So without boring you about why they're declining in popularity, instead we're looking at alternatives to JUUL which could happily replace your previous device.
What Are Some Alternatives to Juul?
Similar in stature to the newer Juul2 device, that's pretty much where the comparison ends. Like most of the products in this list, we have picked refillable devices to highlight the greater depth of options for vapers. The Xros 3 Mini is the latest from Vaporesso which demonstrates the high quality on offer from the brand. It has a much longer life than the Juul2 with a large 1000mAh internal battery. The Juul2 in comparison lasts between 8-12 hours depending on use.

Since the ban on Juul pods, many Juul fans have moved over to either disposable vapes for convenience or refillable pod kits like the Vaporesso Xros 3 Mini that offers more e-liquid variety. You can fill easily up to 2ml of your favourite e-liquid. It supports nic salts like Juul as well as high PG and 50PG/50VG e-liquids. The e-liquid window which is not evident on the Juul2 gives the vaper a better idea of what vape juice is remaining!
The good thing about the Uwell Caliburn series is its reliability and efficiency. With leak-free pods that produce great flavour, whatever your e-liquid, the Caliburn A2S is another example of fine craftsmanship in each device. Impressively, this pod kit fast charges to 90% in nearly 30 minutes and lasts at least one day of mouth-to-lung vaping. Like most modern stylish devices for compact vaping, the Caliburn A2S boasts a smart pod window for clear visibility. The material is as smooth and sturdy as any Juul and creates excellent results consistently. It has a matrix lighting system where the logo is to highlight the battery levels for a super cool little feature.
After a long time of smoking and forming a bad habit with a dull-looking cigarette that you don't get to keep, it's refreshing to have something electrical with an e-cigarette. There are lots of different designs to suit all preferences. But with Juul despite their popularity, there are only two devices with one in current circulation that's lacking in inspiration. The latest Argus Z from Voopoo is a stylish piece of kit. Featuring a curved mouthpiece for optimum MTL vaping and a sleek coated grip below the pod, it is comfort personified. Plus it's practical too, with a visible e-liquid window pod, a decent 900mAh battery capacity and a generous amount of airflow for smooth vaping and a consistent 17W output with auto-draw.
The Juul devices are limited in the draw that they provide, despite being easy enough automatically through the mouthpiece. There is no adjustable airflow, or the possibility to change the coils via the pods. But you have more options and versatility with the Smok Propod. It ranges from 0.8 Ohm coils up to 1.5 Ohm coils. With leakproof pods, they offer more reliability than Juul and a simple top-fill method.
Geekvape not only makes large vape mods with loads of cool features pumping out huge clouds but compact pod kits too. The Sonder U is designed in a similar fashion to the other devices on this list. Easily fitting in the pocket but providing a large battery at 1000mAh, it comfortably lasts all day. With no buttons to press but refillable 0.7 Ohm pods, it creates a small amount of cloud and offers a nice easy step up from disposables.
A super useful feature with the Smok Solus 2 that any vaper regardless of level will appreciate is the ability to reverse the pods. It's the best way to switch between big cloud vaping direct to lung and mouth-to-lung vaping like you would a cigarette. As well as this, the Smok Solus is a slim pocket-friendly kit that's easy to hold, auto-draw and simple to swap the pods which fit magnetically.
Refillable pods are the way forward for vapers who want to save some money and introduce more flavours and coil resistances to their daily vape routine. But it would be rude to not include one prefilled option in this list of Juul alternatives. The popular Elf Bar Mate 500 from the brand that provides some of the top disposable vapes has 8 prefilled ready-to-go flavoured pods in lots of different fruity and sweet flavours. The battery size is similar to Juul pod kits but gives you so more choices to pick from thanks to the P1 pods.
Last on the list is the popular Aspire Flexus Q, which has a simple design, reliable battery performance at 700mAh and charges to near full capacity in 10 minutes! You can have different coil options of 0.6 Ohm or 1.0 to mix between a loose MTL draw and a tighter MTL draw respectively. The cool function is the three-tier power system which is adjustable.

To find out more about the great selection of beginner-friendly devices we offer, get in touch with our team of vape experts, or to find your next Juul replacement, take a look at our range of vape pod kits.