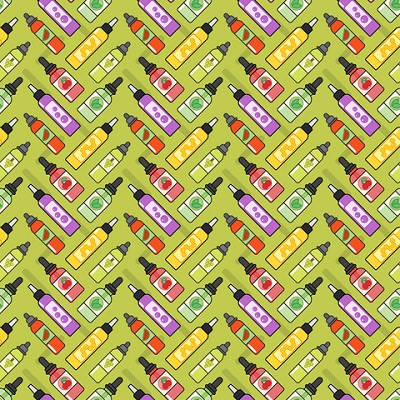 If you're new to vaping you probably haven't had an opportunity to experiment with different e-liquid flavours to decide on your favourite. Did you know that there's more to experiment with than just flavours? There's also a choice to be made when it comes to the base of your e liquid and you've probably seen it be debated about time and time again on social media. It's one of the biggest debates that rages on in the vaping community: PG vs VG.
So what are these two e-liquid bases and why are people so fiercely protective of their favourite? PG is the abbreviation of propylene glycol and VG is the abbreviation of vegetable glycerin. Combining one (or both) or these liquids with flavouring and nicotine (unless you opt for a 0% nicotine option) creates the e-liquid that you use in your e-cigarette. They provide the liquid base and produce vapour when heated in your device. Aside from these basic similarities, each offers different positives and drawbacks so you'll find that most vapers have a strong preference for one type of liquid.
Today we're going to clear the air around this ongoing debate and share both the pros and cons of each e-liquid base, as well as give you some insight about which type of e-liquid might be most suitable for your specific style of vaping.
High PG E-Liquids
As we mentioned earlier, PG stands for propylene glycol, which is a colourless, odourless by-product of petroleum. It has a runny consistency and packs an impressive throat hit, which is often deemed particularly important by new vapers. PG e-liquids are known for having the best flavour on the market and this is down to the PG itself, which is extremely effective at carrying flavour.
For their hefty throat hit and unparalleled flavour, e-liquids with a PG base are currently the most popular on the market. Additionally, the thinner consistency leads to less build up in your tank so you might notice your e-cigarette is cleaner than usual if you switch to a PG-based e-liquid.
Youcan find PG in many products you have in your house right now, including make up, shampoo, topical medical products, baby wipes and even asthma inhalers. While numerous studies have confirmed PG is safe for humans, you should proceed with caution if you have pets in your home. While PG is considered safe for dogs and is included in numerous dog foods, it is linked to disease in cats, so we'd recommend vaping away from your household pets if you use PG e-liquids.
Your High PG E-Liquid Options with V2 Cigs
V2 Cigs Platinum E-liquids are some of our bestselling products, emphasising great taste and quality ingredients. Our high PG e-liquids are available in nicotine strengths 0%, 1.2% and 1.8% in fifteen unique flavours:
Cherry
Chocolate
Coffee
Cola
Congress
Grape
Green Tea Menthol Tobacco
Peppermint
Sahara Tobacco
Vanilla
Our Platinum E-liquids are available in packs of one, three or five 10ml bottles, with prices starting at £6.99.
Click here to shop the full range of Platinum E-Liquids.
100% VG E-Liquids
Whilst PG e-liquids are all about throat hot and flavour, VG e-liquids come into their own when it comes to flavpur and vapour production. If you're looking for great taste and billowy plumes of vapour then there's no substitute for VG-based e-liquids.
Abbreviated from vegetable glycerin, VG is a natural derivative of vegetable oil, making it a suitable e-liquid option for vegetarians. It's more viscous than propylene glycol so you'll notice that VG e-liquids have a thicker consistency but they provide a smooth finish and, as mentioned above, produce unparalleled amounts of vapour. For this reason alone, they're a firm favourite with cloud chasers and competitive vapers.
So, is it safe? As with propylene glycol, you'll find vegetable glycerin in a plethora of household items, such as sweeteners, baked goods, toothpaste, bubble baths and hand creams. Toxicity studies have found minimal risk when it comes to VG and it's a possible alternative for those who have an allergy to PG e-liquids.
Starting at 0% nicotine, with 3 nicotine strength (6mg, 12mg & 18mg) these VG liquids put the emphasis on both flavour and vapour production. Here are just a few of the features:
100% organic VG base
Fully GMO free
Prepared in a 'clean room' lab
Not tested on animals
Bottles created from medical grade plastic
Fully produced within Europe
Fully TPD compliant
Both the
Gourmet
and
Original
ranges are available, including the following flavours:
Classic Virginia
Pure Virginia
M Tobacco
Arctic Menthol
Apple
Cherry
Elderflower
Strawberry Cream
Coffee Cream
Vanilla
Apricot (Gourmet range)
Coconut (Gourmet range)
Cappuccino (Gourmet range)
Raspberry (Gourmet range)
Toffee Choco (Gourmet range)
Coffee Choco (Gourmet range)
Tutti Frutti (Gourmet range)
Watermelon (Gourmet range
The VSAVI 100% VG E-liquids are priced at £5.99/10ml.
What about a PG/VG blend?
What if you want the best of both worlds, can you blend PG and VG e-liquids? You can indeed, and it's a popular option for those who find the throat hit from pure PG e-liquids too harsh, or find that the flavour from their VG e-liquids is lacking. Whether you opt for a 50/50 blend or a 75/25 split is up to you, so we'd recommend experimenting with different ratios until you settle on the best option for your personal vaping style.
Your PG/VG Blend Options with V2 Cigs
We knew you were keen to enjoy an e-liquid that provided both great flavour and big clouds, which is why we debuted our two PG/VG blends earlier this year. Part of our Platinum E-liquid range, we have two new flavours available:
Black Tobacco
Bold Leaf Menthol
Gold Tobacco
Both are available in packs of one, three or five 10ml bottles, with prices starting at £6.99.
Click here to shop the Platinum E-Liquid range .
Recently we also released the XEO Aroma E-liquids, another PG/VG blend. The flavours that make up the range include:
American Red
American Gold
Cherry Banana
Cherry Lime
Coffee
Grape Mint
Grape Pear
Mango Pear
Peach Brandy
Virginia Honey
Available in nicotine strengths 0%, 0.6%, 1.2% and 1.8%, prices start from £5.99.
Click here to shop the XEO range.
*
So there you have it, an in-depth guide to PG and 50/50 and 100% VG e-liquids. We hope this information helps you make an educated decision about your next e-liquid and you're delighted with whichever option you settle on. If you have any further questions about either PG or VG e-liquids please don't hesitate to get in touch with us via Facebook, Twitter or our Contact page.