We don't know about you but we've felt a definite chill in the air over the past couple of weeks. Winter is getting ready to rear its head so it's the perfect opportunity to brush up on your knowledge of cold weather vaping.
Vaping in Cold Weather
You might think that vaping is the same year round but you should definitely be more mindful of how you use and store your equipment at this time of year. The cold weather can wreak havoc on your vaping devices and e-liquid, so follow our top tips to make sure your vaping goodies stay at their best throughout the chilly season.
Battery Care
One of the most important elements to take care of in the cooler weather is your vaping battery : if it isn't functioning at its best then it can throw your whole vaping experience off. Your battery is the part of your e-cigarette that's most sensitive to temperature, so as soon as the temperature drops below freezing you'll need to pay particular attention to how you're storing your battery.
You may notice that your battery loses power much faster in colder weather so our main advice is to make sure it's stored in a warm (well, above freezing at least) environment. It can be tempting to leave it in the glove compartment in your car while you nip to the gym or the shops but we recommend keeping it out of the car and in a dedicated vaping carry case that will keep it protected.
E-Liquid Care
When it comes to e-liquid, some will fare better than others in the winter months. PG e-liquids will retain their texture much better than their VG e-liquid counterparts, as propylene glycol has a much lower freezing point than vegetable glycerin.
Have you noticed your e-liquid thickening up in cold temperatures? As you can imagine, the change in texture can make it a lot more tricky to refill your atomiser and can lead onto problems like spilling or overfilling.
Again, in the warmer months you may keep a spare bottle of e-liquid in your car for convenience but we urge you to bring these inside when winter rolls around. Instead, fill some spare tanks to take with you throughout the day to make sure they stay at the correct temperature and you'll never get caught short without e-liquid.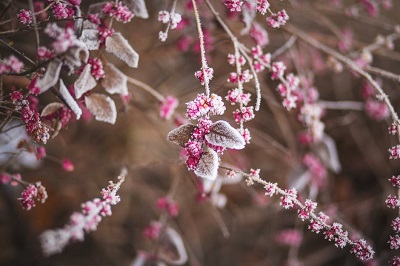 Carry Cases

If there's any chance of the weather dropping below freezing then we strongly recommend storing your vaping gear in a dedicated carry case and keeping it with you throughout the day, unless you can leave it in a warm enough environment.
Our V2 Metal Carry Case holds up to three Short or Standard batteries, or two flavour cartridges, so there's plenty of space to keep your daily vaping gear safe and sound on the go.
Self Care
Last but not least, don't forget to look after yourself as well as your vape pen. If you're going to be out and about during the day make sure you plan ahead and try to make sure you can vape inside in the warm and dry instead of having to vape outside in the wind and rain.
Of course, it's not always possible to find indoor vaping areas when you're on the go so if you have to vape outside keep yourself warm with a good coat and cosy scarf - save yourself from that pesky cold!
One last tip we'll leave you with is to try an e-liquid that leaves you with a warming sensation. Now's the time to try those rich, creamy blends that you've been meaning to test out all year: we're talking VSAVI Toffee Choco or XEO Virginia Honey.
*
Did we miss any important cold weather vaping tips from our list? If you're a winter pro and think we missed something then please don't hesitate to get in touch via Facebook or Twitter to let us know.
Finally, if you have any queries about which equipment or e-liquids might be the best for your needs this winter, get in touch with our friendly team of vaping experts today.