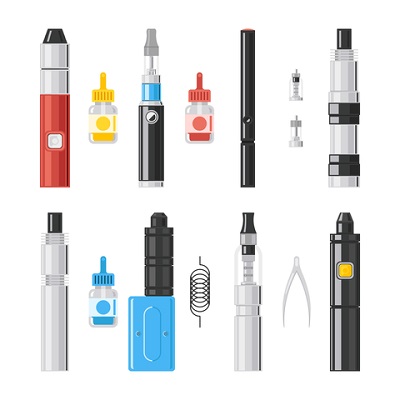 Welcome back to another instalment in our Vaping 101 series, designed to help new vapers get to grips with all things vaping, whether that's choosing the right e-liquid strength or decoding vaping jargon.
You can catch up on any of our former Vaping 101 posts here:
Vaper's Tongue and Vaper's Cough
This week we're taking a look at the difference between the three major types of vaporisers: cigalikes, vape pens and box mods. You'll probably have seen these terms floating around vaping discussions online or on your favourite vaping brands' websites but it can be overwhelming if you're not sure exactly what they mean or which option you should go for.
Today we're going to help you understand more about each type of vaping device and what type of vaper it might be best suited for so you can make your next vaping purchase, confident that the vaporiser that arrives on your doorstep is exactly what you've been looking for.
Let's start with the device that was probably every vaper's first vaping purchase: the cigalike.
Cigalikes
The entry level vaporiser that most closely matches a cigarette, cigalikes are the first port of call for almost every new vaper. They mimic the shape and feel of a traditional cigarette and are extremely convenient to use as the vast majority are compatible with pre-filled cartridges that you simply replace when they're empty. It might be less cost-effective then refilling a tank but you can't beat that convenience, particularly soon after switching to vaping.
The Vapour2 range of cigalikes is made up of our Classic and Ex products, which you can purchase as part of kits or as standalone batteries. The range includes:
V2 Classic Cartridges (£12.99 - £159) - Click to Shop
V2 Standard Classic Battery (£16.25) - Click to Shop
V2 Long Classic Battery (£19.25) - Click to Shop
Vapour2 Classic Starter Pack (£27.99) - Click to Shop
Vapour2 Classic Standard Starter Pack (£55.75) - Click to Shop
Vapour2 Classic Standard Plus Starter Pack (£82) - Click to Shop
Vapour2 Classic Ultimate Pack (£132.85) - Click to Shop
Vapour2 EX Series Cartridges (£13.95 - £109) - Click to Shop
Vapour2 EX Series Battery (£25.76) - Click to Shop
Vapour2 EX Series Starter Pack (£45.97) - Click to Shop
Vapour2 EX Series Standard Pack (£70) - Click to Shop
Vapour2 EX Series Standard Plus Pack (£102.92) - Click to Shop
Suitable For
:
Those who are new to vaping
Those who want an experience close to cigarettes
Those who favour convenience
Not So Suitable For:
Those who like to experiment with variable settings and powerful flavour
Those who like cloud chasing
Those who are looking for a cost-effective way to vape
Vape Pens
If cigalikes are what most vapers start off with, vape pens are usually the second step on the average vaping journey. They offer more freedom and options than cigalikes, and bring in the ability to experiment with flavour with refillable tanks.
We'd like to take a moment here to remind you that this isn't a roadmap you need to follow for your vaping journey to be legitimate. While some vapers see box mods as the ultimate in vaping that everybody should work towards using, that's simply not the case. Some people have been enjoying vaping nothing but cigalikes for the best part of a decade and if that's what works for them then that's exactly what they should be doing. If you fall in love with a vape pen and don't feel the need to try your hand at sub-ohm vaping then please don't ever feel pressured to buy pieces of kit that you aren't enthusiastic about.
Remember: i's your vaping journey, nobody else's.
Now, let's turn our attention back to vape pens.
The design and features of vape pens can vary wildly and this is probably the biggest category of vaporiser out of them all. A few things they tend to have in common is that they're larger than cigalikes and often feature a refillable tank system rather than disposable cartridges (however, there are options out there that can be used with pre-filled cartridges).
This refillable tank option is perfect for those vapers who like to focus on taste rather than clouds. Using a high PG e-liquid with a vape pen is one of the best combinations for big, bold flavours. You can even try blending a couple of different flavours together to create your own personalised e-liquid - don't forget to keep a notebook handy so you can jot down your favourite combinations!
The Vapour2 range of vape pens is made up of the PRO Series, which includes two devices that offer different features and benefits, depending on your preferred type of vaping experience.The PRO Series 3 is a lightweight model that's great for on-the-go convenience, while the Series 7 is one of our most advanced offerings, suitable for e-liquid, loose leaf, wax and dry herb.
Vapour2 PRO Series 3 Kit (£75) - Click to Shop
Vapour2 PRO Series 7 Kit (£150) - Click to Shop
Suitable For
:
Those who are ready to experiment with vaping styles and settings
Those who favour e-liquid taste
Not So Suitable For:
Those who favour cloud chasing
Those who are looking to use disposable cartridges for convenience
Box Mods
Mods, box mods, tube mods…these devices go by plenty of different names and the one thing almost all box mods have in common is that they allow sub-ohm vaping.
The most recent addition to the e-cigarette line up, box mods were created to give vapers more freedom over customisation options, cloud blowing and tank size. Box mods come in all shapes and sizes and there truly is something for everybody, whether you're looking for a larger tank or a custom-designed mod.
Our newest device is also our first ever sub-ohm device: the Trinity. It reached our shores earlier this year and we're delighted with the reception it's had so far. Offering vapers a truly custom experience, the Trinity is compatible with both PG and VG e-liquid and features a variable output of 5-40W so you can tailor your perfect vape.
Trinity Vaporiser Kit (£69.99) - Click to Shop
Suitable For:
Cloud chasers
Those who want to experiment with variable settings
Those who are looking for full freedom over their vaping experience
Not So Suitable For:
Those who want a fixed, standard vaping experience
Those who value taste above cloud chasing
*
Choosing the right vaping device for your needs is key, particularly when you're starting out on your vaping journey. We hope today's post has helped you learn more about the three main types of vaporiser and has given you some clarity on which device will be best suited for your preferred type of vaping.
If you have any further queries about vaping or our range of products please don't hesitate to get in touch with our team of vaping experts.