I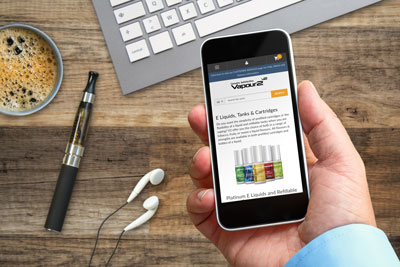 f you've ventured along your local high street recently, one sight that can almost be considered a certainty is that of a vape shop furnished with e cigs, e juices and accessories galore. Popping up here, there and everywhere, the exponential rise in popularity of e cigs is in plain sight with some 2000 and counting outlets in existence catering to an estimated 3.2 million vapers. But should we err on the side of caution when it comes to where we source our e cigs? Let's look at the difference between buying e cigarettes online versus the high street vape store.
Whether you're content with your e cig experience or are just starting out and seeking guidance on where to get the very best e cigarette devices, it is essential to seek the best vaping experience possible.
Order On the Go Or From Your Home
Buying e cigs and e liquids isn't necessarily as straight forward buying your traditional pack of cigarettes. While petrol stations, off-licenses, corner shops and dedicated vape stores might provide seemingly direct access to the kind of vaping products you need, picking up the same brand and same quality every time you pop to the shop is far from a safe bet.
Avoid the instance of picking up an e juice that puts you off the idea of vaping altogether and enjoy the same consistent quality vape, every time you vape by buying a premium quality e-liquid ;online. Whether on the move or in the comfort of your own home, our fast and efficient delivery service means that your next Vapour2 package is a simple click away. We can even help you with what to expect in your first week of vaping.
No Pressure to Buy
Vape shops can be great places to meet like-minded lovers of all things e cigarettes, and you'll often be able to try various e juices and products on the premises. While this can be great for identifying which flavours you might like to use in the future, the experience is often accompanied with a full sales pitch, leading you to feel anxious and pressured into buying something you probably don't want.
When you buy e cigarettes and e liquids online, you'll be able to browse products in peace and read real online reviews of what fellow vapers think. If you need any help, we have a friendly team on hand to help you along the way and answer any questions you may have.
If you're searching for a flavour profile to fit your palate, why not try a few and start out with the Vapour2 Starter kit that comes complete with a choice of four flavours to sample.
Vapour2 Customer Care
Here at Vapour2, we make your health our habit, which is why we offer a three-month care programme* aimed to keep you on track when your will power wants to crack.
The battery element of your e cigarette only can last so long before you start noticing a reduction in power which means less vapour, less nicotine and more cravings. Just let us know when you feel you're getting low and we'll send you a new one within your first three months of vaping. Just get in touch with the team, and we'll pop one in the post for you.

*Please refer to our returns policy for further information.