Further Information
The Series 7 Vaporiser produces masses of vapour and has 3 convenient, easy to use replaceable drop-in cartridge options and great battery capacity. E liquid and Loose Leaf cartridges are included in the kit. The specialist wax cartridge is an optional extra purchase.
As well as being great for vaping e-liquid the Pro 7 also features one of the industry's fastest heat up times for the loose leaf cartridges.
The V2 Cigs Pro 7 gets great reviews and is simply the best tobacco vaporizer and dry herb vaporizer out there. It also loves e liquid.
A multi function portable vaporizer with maximum power and capacity, the Series 7 offers a custom experience with variable temperature and voltage settings.
V2 PRO Series 7 vaporiser pen (choose from Black, Stainless Steel and Blue)
Magnetic USB charging lead
Wall adapter (UK or EU)
Magnetic E-Liquid Cartridge
Magnetic Loose Leaf Cartridge
Pick and brush tools used for Herb Cartridge maintenance
Available for separate purchase:
PRO Series 7 Liquid Cartridge
PRO Series 7 Loose Leaf Cartridge
Platinum E-Liquid
PRO Series 7 Wax Cartridge
PRO Series 7 Charging Cable
Auto Charger
Cleaning Kit
PRO Series 7 Lanyard
Grinders
V2 Pro Series 7 Variable Voltage Vaporizer
The V2 PRO S7 vaporizer kit includes everything you need to start enjoying Series 7, plus a few extras.
Each Series 7 vaporizer is equipped with the smart technology and premium features that define Series 3 with important extra features like variable voltage and temperature settings (200°C/390°F, 210°C/415°F and 225°C/440°F).
These advanced features combined with larger cartridge capacities and extended battery life make Series 7 the ultimate 3-in-1 portable vaporizer for both e liquid, tobacco and dry herb.
Like the Series 3 vape pen, the Series 7 Vaporizer offers compatible cartridges for three, unique mediums: loose leaf tobacco, e-liquid and wax. Once you've filled your chosen cartridge with your preferred medium and inserted it into the cartridge chamber, you can select your voltage or temperature setting. If you're not sure which setting you prefer, the smart technology of Series 7 will recognise the cartridge type and automatically heat to optimum vaporizing temperature.
Your Series 7 Kit contains:
S7 Vaporizer Unit
S7 magnetic USB charging cord
Wall adapter (UK or EU)
S7 E Liquid cartridge
S7 Loose Leaf Dry Herb cartridge
Pick and brush tools used for basic loose leaf cartridge maintenance
To use your S7 portable vaporizer, unpack the components, connect the magnetic charging cord to your device and plug into a compatible USB port or the wall adapter to fully charge it.
The Series 7 Vaporizer is available in a choice of three colours: Black, Steel and Blue.
Additional loose leaf, wax and e-liquid cartridges are available for separate purchase when you need to replace your existing cartridges.
The V2 Pro Series 7 Kit offers unrivalled performance combined with incredible value. One device for all your vaping needs.
Which is the Best E Liquid to use with my S7 Vaporizer?
V2 E Liquid is batch tested for high quality, purity & great taste and is the best e-liquid to use with your V2 PRO S7.
The V2 PRO Series 7 Vaporizer Kit
A USA plug is shown in this image, please select a UK or EU Wall Adapter above.
The V2 PRO S7 versus
the Pax Vaporizer.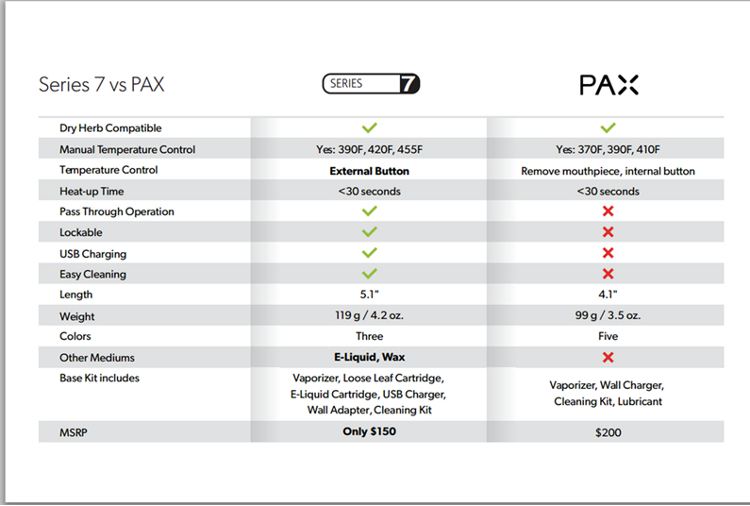 Customer Reviews
Write a Review
Brought as a gift & the recipient is over the moon with it.

He'd previously had a Pro Series 3 Vape Pen & was really impressed with that, but needed an upgrade & I thought the V7 Pro sounded like a good choice. I have a V2 Shisha Pen which I'm happy with too.

Really glad I chose this. A great little gadget, looks good, nicely made.

Excellent service & highly recommended.

Excellent customer service!

I received my kit last week, and while the vape tank and device were fine, the loose leaf chamber broke after a couple of days - however, the company were very quick to rectify this and sent a replacement in a matter of days (it works fantastically well, by the way).
Very happy with the product and the customer service I received!
Thank you V2!! :)

It's good I'm still using my old one too

Excellent value for money product, excellent customer service!!! Genuinely impressed!!

I use this vape pen for herb. I smokes nice funky taste from vaping not burning but a better high indeed. Dont even use alot of greenery in the vape pen its self.

Really impressed with the build of the series 7, does the job excellent battery life and the dry herb vape is great, two weeks smoke free so far one more week and it's paid for it's self. Just as well as I'm going to need a new e liquid chamber before long.

fantastic produst but simple floors that could be sorted

having used this product for over a year now and not smoked a cigarette since this product does help you to stop smoking however the oil refill cartridges are expensive and the plastic they use is very ... very very poorly made so they break extremely easily making you order a new one every month or so. (still cheaper than fags but that bit is a rip off) They could make their oil refills and the silly plastic bit on top from a lot stronger plastic or even at least give you two plastic mouthpieces with every oil container then when the flimsy plastic clips snap which they will and always do you would have a spare for the life of the oil container. I now myself have sat on my desk 4 oil containers and two broken but slightly usable plastic mouthpieces and the oil container and mouthpiece i am currently using which again is broken. which means you don't get a full suction from the oil container every time so basically 5 oil copntainers all of which are fine and no mouthpieces to get a good puff!! V2 sort yourselves out its a simple job to use a plastic that doesnt break when you unscrew it to fill up your tanks or failing that sell the plastic mouthpieces separately!! other than that people reading this review its a good product to stop the fags and settle for something (supposedly ATM) more healthy!!

Response From Team V2: We are aware that this is an issue and are working with the manufacturers to remedy this situation. We do offer replacements so please call us to arrange for them.

So far this is the best one on the downside it is very expensive I've only had it a week and it seems like money well spent it's the nearest to having a real fag providing you use their liquid

I bought the pro series 7 after a lot of research. for its ability, it seemed the best buy.
Its awesome, it is better than my expectations, and I enjoy using it. I think it looks stylish. Everyone I have shown it to, have also commented on its style. I purchased all three cartridges and I have used all of them. They are all very easy and straight forward to use and do exactly what they are supposed to do. The effect is awesome.
Its is switched on buy pressing the button 3 times in quick succession. once switched on press the button 2 more times and you can chose one of 3 power settings indicted by 3 lights, low, medium and high. The charge seems to last a good while, the smoke is nice and smooth and not to heavy. if you like to smoke resin/wax or herb, this is the one you want, if you are trying to quit tobacco products, this is the one for you. I cant say enough good things about it. I was a little apprehensive buying it, but so glad i did now, it has made quitting tobacco very comfortable.
I did contact customer service for something, and they were really helpful and friendly. All in all, TOP STUFF!