Further Information
A Super-Saver pack of (40) 8 x 5 Packs of EX Cartridges. You also get FREE postage in the UK too!
Please note: The expire date of the EX cartridges on sale is 05/08/2020.
The redesigned internal structure of the EX Cartridge produces more puffs, without adding any volume to the cartridge size. This revolutionary internal construction provides a 'tank' like vaping experience and ensures a consistent flavour profile, from the very first puff to the last.
A small window on the side of the cartridge allows you to gauge your remaining e-liquid level at a glance. EX Cartridges have an airtight seal that makes the cartridge less prone to leaking. This seal optimizes the air flow, allowing for thicker vapour production without the need for priming.
Compatible with all V2 Cigs Batteries
You can used EX Cartridges with Classic Standard Batteries, EX Batteries and Long Batteries. We recommend you always have two batteries, one can be in use whilst the other is recharging.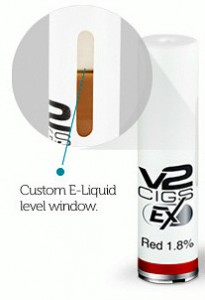 Indicator Window – A small window on the side of each EX Cartridge lets you easily gauge how much e-liquid is left. Once the cartridge is done, simply remove it from your electric cigarette battery and discard!

Airtight Seal – Who says a flavour cartridge can't be leak-proof? Not us. EX Cartridges feature an airtight seal that prevents leakage and optimizes air flow, providing thick vapor production with no need for priming.
Customer Reviews
Write a Review
excellent these have really helped me cut down cig smoking

This is the first time I've used e cigarettes and I'm thrilled at how they've helped me cut down on the real thing. NO smell, taste like cigarettes, satisfying, excellent battery indicator so you don't get caught short and ruin the day, bit pricey but worth it versus real cigarette prices. A life changer.
Team Vapour 2 Response: Well Done on cutting down! Keep going.

Usually excellent, but not the new Gold (+ 'in stock' on the site should be updated)

Very good carts. I prefer congress, tho occasional sahara as well. I don't like the new gold, should not have bought as many last time. If you like congress and red I would advise no more than a 5 pack if you want to try Gold.
One problem is that website always says 'in stock', even when they aren't. My past few orders of EX carts have gone 1) order EX carts, 2) get phone call saying they are out of stock and offering to replace with classic. Classic are OK too, so not a problem really. Not sure how to make my next order - go for the EX, or just go straight to Classic and save myself the phonecall?

That's just a glitch in the site software though, either type of carts with the EX batteries is a superb alternative to smoking. Their customer relations are excellent too.

I use the 1.8% Red and having tried many other brands, these are by far the best.
They taste great, without that sickly aftertaste and sweet smell that many other liquids give.
The throat hit is really satisfying and keeps any cigarette cravings firmly at bay.
So many of my friends have switched to these since trying mine.....even smokers!

If I had to find a negative it would be that they can sometimes leak fluid into your mouth and onto your lips which is unpleasant.
Also at the end of the cartridge it starts to taste exactly like a cigarette (which now repulses me) but if you keep your eye on the handy window you can avoid this.

It would be nice to get the odd discount perk for regular customers.

Bit more expensive but we'll worth the money - last longer and no more getting caught short, you can see when you're running low.