Further Information
A great money saving pack of 4 x 5 Packs of EX Cartridges.
The next generation of prefilled flavour cartridge has arrived.
V2 EX Cartridges are the result of groundbreaking innovation and are more advanced than any other prefilled cartridge on the market.
The redesigned internal structure of the EX Cartridge produces 400+ puffs, roughly double that of our classic prefilled model, without adding any volume to the cartridge size. This revolutionary internal construction provides a "tank" experience and ensures a consistent flavour profile, from the very first puff to the last. A small window on the side of the cartridge allows you to gauge your remaining e-liquid level at a glance. EX Cartridges have an airtight seal that makes the cartridge totally leak-proof. This seal optimizes air flow, allowing for thicker vapor production without the need for priming.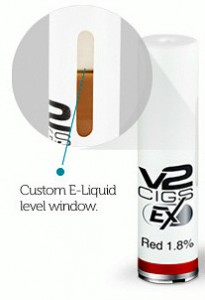 High Puff Count – Our engineers found a way to significantly increase the output of a cartridge without increasing its size. This expanded capacity provides you with 400+ puffs per cartridge; roughly double that of V2 Classic Flavor Cartridges.

Indicator Window – A small window on the side of each EX Cartridge lets you easily gauge how much e-liquid is left. Once the cartridge is done, simply remove it from your electric cigarette battery and discard!

Airtight Seal – Who says a flavor cartridge can't be leak-proof? Not us. EX Cartridges feature an airtight seal that prevents leakage and optimizes air flow, providing thick vapor production with no need for priming.
Customer Reviews
Write a Review
I have recently returned to these ecigs determined this time to stop smoking cigarettes- I am amazed how good these ecigs are - so far I find them a terrific substitute with none of the artificial taste of some of the other brands- I wonder about the claim of 400 puffs but as far as I am concerned these are the answer!

I've been using V2 Ex for a year or so, and they seem to be the best around. Very happy with them.

The cartridges are really good, but I think they are a bit on the expensive side

excellent Love the EX cartridges! They do not leak, hit better, and last longer. It is great to be able to see how much liquid is left. The Sahara is delicious, so smooth and delicately sweet.

I have been vaping V2's now for about 6 months and tried several other brands and styles from websites, and stores. In my opinion V2 E-Cigs, have the best flavor and you get what you pay for and then some! I refuse to buy any other brand now that I've tried V2 and will be a loyal consumer for a long time. Thank you V2 E-Cigs!! By far the best price and taste out on the market !

These are the very best for the money and flavor! I'll be a loyal consumer for a long time to come. Vape them for 6+ months and refuse to try anything else after I've tried a lot of other brands and these by FAR are the best! Thanks you V2 E-Cigs!!
This is the best E-Cig on the market for your money and especially the taste!!


This is a very good product. My personal favorite is the Sahara flavor. This is also a great deal for those who like a variety.
Best E-Cig/Refills on the market!


V2 offers several different types of menthol flavors. Its own 'menthol' is a mix of spearmint and vanilla, with the ZigZag version being a tad stronger and deeper.

I was skeptical at first that the price difference between the EX carts and the standard carts was going to be worth it. Not any more. Much better vapor production,much more consistent,and no leaks so far. All I'd like to see is the rest of the flavors and a price decrease,as I go through these even though they last longer than the standard cart.
EX Peppermint is most like 'traditional' menthol, Green Tea is to die for