Further Information
A Mega-Saver pack of (80) 16 x 5 Packs of EX Cartridges. Experience the rich taste, great flavour and masses of vapour you get from EX Cartridges. You also get FREE worldwide postage too!
Please note: The expire date of the EX cartridges on sale is 05/08/2020.
80 V2 Cigs EX Cartridges
This revolutionary internal construction provides a 'tank' experience and ensures a consistent flavour profile, from the very first puff to the last. A small window on the side of the cartridge allows you to gauge your remaining e-liquid level at a glance. EX Cartridges have an airtight seal that makes the cartridge totally leak-proof. This seal optimizes air flow, allowing for thicker vapour production without the need for priming.
Compatible with all V2 Cigs UK Batteries
You can use EX Cartridges with Classic Standard Batteries, EX Batteries and Long Batteries. We recommend you have two batteries, one can be charging whilst the other is in use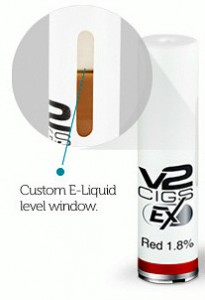 Indicator Window – A small window on the side of each EX Cartridge lets you easily gauge how much e-liquid is left. Once the cartridge is done, simply remove it from your electric cigarette battery and discard!

Airtight Seal – EX Cartridges feature an airtight seal that reduces leakage and optimizes air flow, producing thicker/richer vapour with no need for priming the cartridge first.

Customer Reviews
Write a Review
Vapour2 EX Series Cartridges

Excellent flavour, good value

I don't understand why no one bothers to review these. They are an excellent product. Elegant shape when fitted to the batteries as well