Further Information
The next generation of prefilled flavour cartridges in 0.0% (zero) nicotine.
V2 EX Cartridges are the result of groundbreaking innovation and are more advanced than any other prefilled cartridge on the market.
The redesigned internal structure of the EX Cartridge produces 400+ puffs, roughly double that of our classic prefilled model, without adding any volume to the cartridge size. This revolutionary internal construction provides a "tank" experience and ensures a consistent flavour profile, from the very first puff to the last. A small window on the side of the cartridge allows you to gauge your remaining e-liquid level at a glance. EX Cartridges have an airtight seal that makes the cartridge totally leak-proof. This seal optimizes air flow, allowing for thicker vapor production without the need for priming.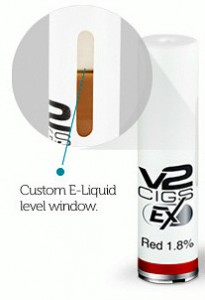 High Puff Count – Our engineers found a way to significantly increase the output of a cartridge without increasing its size. This expanded capacity provides you with 400+ puffs per cartridge; roughly double that of V2 Classic Flavor Cartridges.

Indicator Window – A small window on the side of each EX Cartridge lets you easily gauge how much e-liquid is left. Once the cartridge is empty simply remove it from your electronic cigarette battery and discard it.

Airtight Seal – Who says a flavour cartridge can't be leak-proof? Not us. EX Cartridges feature an airtight seal that prevents leakage and optimizes air flow, providing thick vapour production with no need for priming.
Customer Reviews
Write a Review
This product hasn't received any reviews yet. Be the first to review this product!