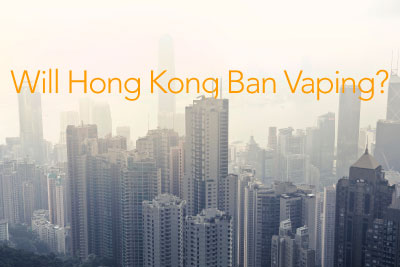 You may remember from last month'sLatest Vaping News blog, that we touched upon Hong Kong's draft legislation that proposed severe fines and punishments for those caught with e-cigarettes. In response, UK based charity New Nicotine Alliance (NNA), has submitted documentation for the Hong Kong Bills committee to consider in the hope that some sense may prevail.
NNA respond to vaping proposal
Recently, NNA submitted a response to a potential legislation, which generally follows the expert evidence and research that has been conducted in both the UK and throughout Europe. Public Health England confidently says that e-cigarettes are up to 95% less harmful than smoking traditional tobacco cigarettes and that vaping has the potential to help smokers become smoke-free. Additionally, countries such as Sweden, Norway and Japan have all benefitted from tobacco harm reduction among their respective populations. The UK-based charity, also warns that imposing such fierce punishments for vaping may in-turn have a negative impact on the country's tourism economy.
Holiday Warning! Don't get it wrong in Hong Kong
In addition to NNA's submission to Hong Kong's Legislative Council, the charity has also offered a stark warning to any UK vapers who may be thinking about seeing the sights anytime soon.
Should Hong Kong's harsh e-cig legislation be imposed, then it is likely that those caught in possession of any vaping paraphernalia can expect huge monetary fines and jail time of up to 6 months. Ouch!
If you're going to Hong Kong anytime soon – the advice is to leave your vaporizer and e juice at home and hope that will power or alternative nicotine replacements come to the rescue.
Does your holiday destination allow vaping?
If you love vaping and are about to book a holiday, it may best to take a look vaping news from around the world to catch up on what's where you stand with e-cigarettes on your travels.
It's not just Hong Kong that you may have to be wary of? While vapers in the UK benefit from the confidence given by PHE's positive endorsement of e-cigs, other nationalities and countries may have a differing opinion.
Why? You may think you've been vaping for a long time, but in reality, the e-cig industry is still in relative infancy, which means that the long term health consequences are yet to be observed. While this may be a valid point, what we can say with overwhelming confidence is that vaping is considerably less harmful than smoking.
Vaping laws around the world are constantly evolving and changing, so it's important to stay up to date and do your homework before you travel. You will generally be fine vaping throughout the E.U, though you should check e-cig policies of individual countries about where you can vape publicly to avoid being caught out.
If you can't bear the thought of going a day without your vape pen, then travelling throughout Asia may become tricky. Thailand has one of the strictest policies that include hefty fines, deportation, and imprisonment while caution is advised in Brunei, Cambodia, Philippines, Singapore, Taiwan and Vietnam too.
In fact, throughout the Arab states and Americas, various countries may impose fines if you're in the wrong place at the wrong time.
For many, Hong Kong has played a pivotal role in the technological age. A pioneer of innovation and progression, it seems at odds that a device that aides smokers to become smoke-free is being seen by health officials in Hong Kong as a danger. Let's hope that logic plays its part and that Hong Kong can enjoy a vape-friendly future.
Stay safe out there. Vape aware. Vape happy.