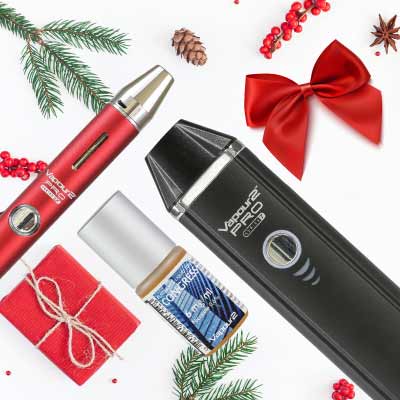 Vaping 101: Start Your Vaping Journey this Christmas
The twinkle of fairy lights. The crackle of chestnuts roasting on an open fire. Choirs singing carols incandescently in the distance. 'Tis the season of goodwill and harmony, of merriment and delight, a time of giving and a time of receiving. Searching for that ideal stocking filler or the piece de resistance of pressies? If your nearest and dearest are the kinds of savvy folk who partake in the use of e-cigarettes or indeed, you are a vaper yourself looking to point those givers you know in the right direction, then look no further than our festive essentials for vapers.
Of course, these suggestions are not just limited to those that already vape. If you know a smoker who's been trying valiantly, but failing miserably at trying to quit cigarettes, then why not let Santa make the suggestion to switch to vaping? Declared by Public Health England to be up to 95% less harmful than traditional tobacco cigarettes, e-cigarettes also have the potential to help smokers quit and have already helped millions in the UK quit.
Check out our Vaping 101 help guide where we have many useful articles, hints and tips on basic vaping.
The Best E-Cigarette and Vaporizer Devices
Depending on where you are along the line of your vaping journey, there are two devices that we would recommend giving as a gift this year. Two contrasting price points, two contrasting devices. The same Vapour2 quality.
If you're looking to potentially give the gift life to a smoker you know this Christmas, then the best entry market device for those starting out with vaping is the Vapour2 Starter Pack. An affordable entry point and a nice way for those new to vaping to try a range of flavours this starter pack includes a standard battery, express USB charger and up to six different flavour choices.
For those existing vapers who you may have been noticed have been indulging in the experience of e-cigarettes for some time, why not get an upgrade and take your vaping to the next level. Enjoy the power of sub-ohm technology and check out the Vapour2 Pro Series 7 - our most advanced vaporizer to date. Try out three different magnetized cartridge options that include the use of e-liquid, loose leaf tobacco and herbs, as well as a unique wax cartridge.
E-Liquid
A hugely important factor for those beginning to vape is to ultimately enjoy the experience, which is why identifying a few flavours that are preferable to your pallet that you will enjoy on a regular basis is key to keeping you on your journey of being vape happy and potentially smoke-free.
Give the gift of variety to vapers near and far and top up the gifts that surround the Christmas tree with the Vapour2 Platinum E-Liquid Sample Pack. Including six bottles of premium quality e-liquid that flavours such as traditional tobacco, minty menthol and sweet and fruity numbers such as Cherry, Cola, and Coffee, these tasty e-liquid options will provide treats aplenty for vapers with a penchant for choice.
Vaping veterans with their heart set on their frequent go-to favourite flavour combinations will relish the chance to stock up this season with the Vapour2 Platinum E-Liquid multipack, available in a range of 14 vapelicious flavours.
Accessories
Accessories will always be a winning gift for any discernible vaper this December. Whether you stay powered up with the addition of an extra power adapter or charger or looking to replace your stock of blank refillable cartridges, choose from a range of Vapour2 accessories to complement your Christmas wish list this year,
Have a Ho Ho Happy Christmas from all here at V2.